05 May

Quarantine Cuisine 6

As we enter May, most of us are still stuck on stay at home orders. Fast food is getting boring and you may be running out of things to make. Well here are two recipes to spice up your Quarantine Cuisine. A new take on the American classic cheeseburger and a dessert to remember are on this week's recipes.

Cheeseburger Pie: A pie like casserole version of the great American classic cheeseburger. Serve like a pie, but enjoy the savory burger flavors with ketchup instead of whipped cream.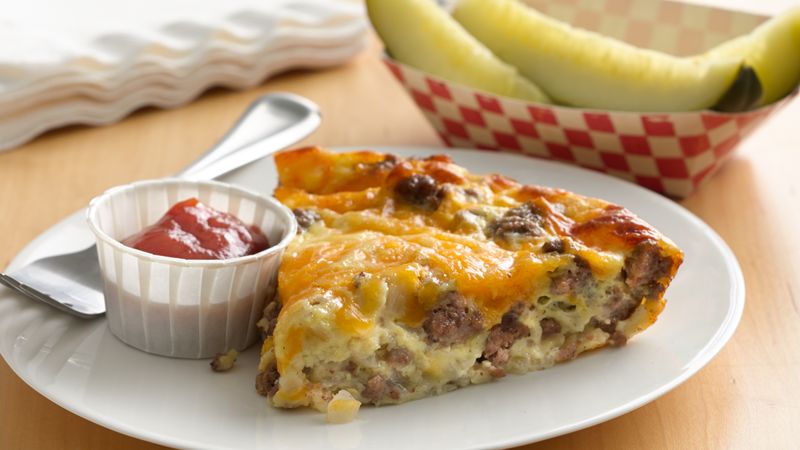 Ingredients:
1lb lean (at least 80%) ground beef SAVE $
1 large onion, chopped (1 cup)
½ teaspoon salt
1 cup shredded Cheddar cheese (4 oz)
½ cup Original Bisquick™ mix
1 cup milk
2 eggs
Directions:
Heat oven to 400°F
Spray 9-inch glass pie plate with cooking spray.
In 10-inch skillet, cook beef and onion over medium heat 8 to 10 minutes, stirring occasionally, until beef is brown; drain. Stir in salt.
Spread meat mix into pie plate and sprinkle the cheese on top. The more the merrier.
In small bowl, mix the remaining ingredients until a uniform concoction and pour into pie plate.
Bake for 25 minutes or until knife inserted in center comes out clean.
Enjoy with ketchup to get the full burger flavor.
People Puppy Chow: A dessert my mom mastered, this dog food looking dessert is much tastier than it appears. Known more by the name of "muddy buddies", this dessert is crunchy, chocolatey, peanut buttery, and delicious.
Ingredients:
9 cups crispy rice cereal squares
1/2 cup peanut butter
1 cup semi-sweet chocolate chips
1 1/2 cups powdered sugar
Directions:
In a saucepan over low heat, melt the chocolate;
add peanut butter and mix until smooth.
Remove from heat, add cereal and stir until coated
Pour powdered sugar into large plastic bag, add coated cereal and shake until well coated.
Store in airtight container or serve in a bowl for dessert or even a sweet appetizer.
Another week of being trapped at home down. Hopefully the end of this quarantine is near and these recipes helped spice up your meals for the day. A quick and easy dinner and a delicious dessert that both serve well at home or for a potluck. Stay home and stay safe.